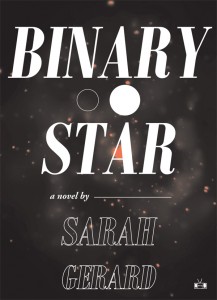 Two Dollar Radio, January 2015
Find it at your local independent bookstore

*FINALIST—The LA Times Art Seidenbaum Award for First Fiction
*Best Books of 2015 —NPR,  Vanity Fair
*Best Fiction of 2015 —BuzzFeed
*Best Independent Press Books 2015 —Flavorwire
*Favorite Novels 2015 —Largehearted Boy

The particular genius of "Binary Star" is that out of such grim material it constructs beauty. It's like a novel-shaped poem about addiction, codependence and the relentlessness of the everyday, a kind of elegy of emptiness. – The New York Times
Gerard captures the beauty and scientific irony of damaged relationships and ephemeral heavenly lights. Just as with the stars, it is collapse that offers the most illumination. – The Los Angeles Times
Rhythmic, hallucinatory, yet vivid as crystal. Gerard has channeled her trials and tribulations into a work of heightened reality, one that sings to the lonely gravity of the human body. – NPR

Gerard has written characters, in lyrical and deeply affecting prose, who are burned out and burning up what substance they have just to be known to each other. – Vanity Fair

"A bold, beautiful novel about wanting to disappear and almost succeeding. Sarah Gerard writes about love and loneliness in a new and brilliantly visceral way." – Jenny Offill, author of Dept. of Speculation
"I felt a breathless intensity the whole time I read Sarah Gerard's brilliant Binary Star. I sped through it, dizzy, devastated, loving all of it." – Kate Zambreno, author of Book of Mutter and Heroines
"Two lost souls hurtle through a long dark night where drug store fluorescents light up fashion magazine headlines and the bad flarf of the pharmacy: Hydroxycut, Seroquel, Ativan, Zantrex-3. Gerard's young lovers rightly revolt against the insane standards of a sick society, but their pursuit of purity—ideological, mental, physical—comes to constitute another kind of impossible demand, all the more dangerous for being self-imposed. Binary Star is merciless and cyclonic, a true and brutal poem of obliteration, an all-American death chant whose chorus is 'I want to look at the sky and understand.'" – Justin Taylor, author of Flings
"By now I've read Binary Star twice, and I've become so entwined with it that I'm reluctant to talk about the subject at length. Let me just say that I've never read anything like it." – Harry Mathews, author of My Life in C.I.A.
"Allegorized by the phenomena of binary stars, Sarah Gerard's first novel confronts the symptoms of modern living with beauty and courage." – Simon Van Booy, author of Father's Day
Trailer by David Formentin.